Yacht Delivery Captain - Power and Sail
Professional Yacht Delivery Service
As a commercially licensed yacht delivery Captain, I have been doing sail and power boat deliveries professionally since 2002. When people ask me what I do for a living, their reaction when I mention 'delivering boats through the water' is often, "Wow, are you ever lucky".
Such a response immediately tells me they had never done a boat delivery because, if they had, they would not use the word 'lucky', but perhaps more like, "you poor guy".
WHAT IS A BOAT DELIVERY?
Before getting into the challenges and perils of doing boat deliveries, perhaps a description is in order for what a boat delivery is and why they are done.
Boat or yacht delivery activity is an industry engaged in moving sail or power boats from A to B, typically for a boat owner, yacht broker, or a boat manufacturer. There are two basic types of boat deliveries – 'overland' and 'through-the-water'. The 'overland' method is, as it implies, transporting boats by truck or rail by qualified service providers with specialized trucks or railcars specifically designed for that purpose. For a yacht delivery Captain, there is a great deal of preparation to make a boat ready to be transported over land. For example, sailboats must have their rig (mast, boom, arch, rigging, etc.) dismantled and packaged for shipment in order that the vessel is low enough to get under the bridges during transport. Larger power boats also typically need some upper deck disassembly so they too can make it under the roadway bridges.
The 'through-the-water' delivery service involves moving the boat through the waterways from A to B, and therefore typically eliminates any disassembly of the vessel. An exception to this would be if the boat being delivered 'through-the-water' is going to pass through canal systems that have lower bridges. In that case, sailboats and some power boats will require some disassembly prior to entering a canal system that has bridges too low to allow passage without the disassembly.
Typically, moving a power or sailing vessel through-the-water places far less stress on the vessel. The boat to be delivered through-the-water does not need to be hauled out in order to prepare for shipping, and also avoids the re-launch of the boat at the destination – thus saving clients added expenses. In addition, vessel hulls are much better kept in the water where they are more 'relaxed' and keep their true designed hull shape.
There is one other unique 'through-the-water' service that larger yachts do use in transporting from A to B and is most often seen used in tropical parts of the world. For example, Dockwise Yacht Transport (DYT) URL link: http://www.yacht-transport.com is a company that has several large freighters which have been designed to transport yachts anywhere in the world. The yachts are still moved through the water, but they are placed aboard these specialized shipping freighters. In this case, the term used in the industry is the vessels are transported through-the-water, but 'not on their own bottom'.
For some larger yachts, this method of transportation is necessary for much longer deliveries since the vessel would not have sufficient fuel to do the delivery 'on its own bottom'. A good example of this is when larger yachts are being moved across the Atlantic Ocean from the Caribbean to the Mediterranean or from the Mediterranean back to the Caribbean Sea.
WHY BOAT DELIVERY?
The most common reasons why a client would want/need to have a boat/yacht moved from one location to another are:
1. Owner purchases a yacht that needs to be relocated from the sellers location to the buyers home port;
2. Owner wants their boat relocated to a new location and does not want to endure a long delivery passage, or does not have the time or the skills to do so;
3. Boat deliveries arranged by manufacturers to move a new boat sold to the buyer's location.
With some of our deliveries, the owner(s) will come accompany us. This is particularly helpful on a new purchase as it gives the owner some hands on experience and familiarity with their new boat before it arrives at home port.
TOUGH WORK:
Boat deliveries are very tough challenging work! Many of our Great Lakes deliveries are done on a non-stop round the clock operation. This means shift work for the crew. During the day, we usually run on 6 hour shifts, and then 2-4 hour shifts during the night.
Exceptions to delivering a boat on a non-stop basis are when navigating at night is neither practical nor possible on account of a number of factors which are: boat lacks night navigating gear, traversing locks, navigating inter-coastal waterways, or extreme weather considerations.
Other important considerations are: avoiding sea sickness and dehydration, good nutrition planning, adequate rest to minimize the effects of sleep deprivation and being dressed for the occasion! Early/Late season weather, with wind chill effects, is very cold on the water – and so is the water!

GREAT LAKES PASSAGE ROUTES:
People often ask us how we move a boat from Georgian Bay to Toronto through the water. Essentially there are two passage routes possible. The open water route involves traversing Georgian Bay to Lake Huron, down Lake Huron to Sarnia, down the St. Clair River, cross Lake St. Clair, down the Detroit River into Lake Erie. Traverse the length of Lake Erie to the Welland Canal – lock down 8 locks to Lake Ontario, and finally cross Lake Ontario to Toronto. The advantage to this route is there are no low bridges, so no need to do any disassembly on the boats. On a non-stop delivery basis, it takes 3-5 days to move a boat from Southern Georgian Bay to Toronto – 640 nautical miles.
The alternative route is to take the Trent Canal system starting at Port Severn (Lock 45) in Southern Georgian Bay and ending up in Trenton, ON after passing Lock 1. From Trenton, we pass though the Murray Canal onto Lake Ontario and then onto Toronto.
The advantage to this route is it a shorter distance than the open water route mentioned above. The disadvantage is there are low bridges, so sailboat rigs have to be un-stepped (see picture below) and the water depths in the Trent system are only guaranteed at 5 feet – which restricts the size of vessels that can transit. Although the distance is shorter, the time it takes on this route can be longer than the open water route because the Trent System locks only operate during the day so a non-stop continuous passage is not possible while in the canal system.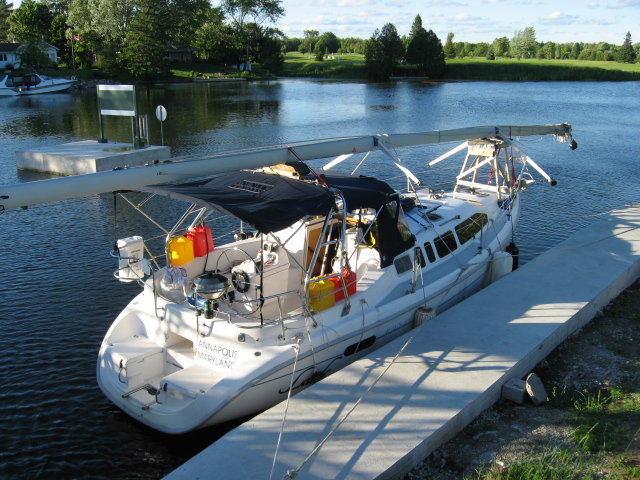 Sailboat Delivery on the Trent Canal System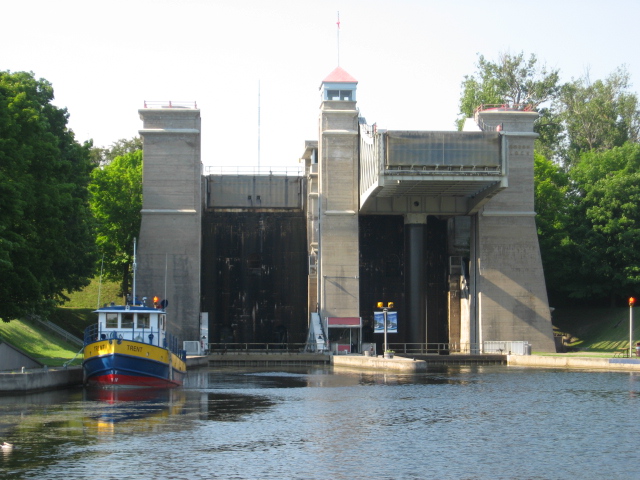 Peterborough Lift Lock on the Trent Canal System
Largest Hydraulic Lift Lock in the World

BOAT DELIVERY VARIABLES:
No two boat deliveries are the same which makes every job unique, interesting, and a valuable learning experience. The boat delivery variables are many, namely:
Duration of the delivery; the passage route plan; the time of year (fuel & weather); the equipment on board; the number of crew needed; owner participation; and the age/seaworthiness of the boat.
The 'time of year' variable can have a huge effect on a boat delivery. For example, many boat deliveries through the Great Lakes occur early Spring and/or late Fall. Difficult access to fuel at marinas and heavy weather conditions are two factors that require very careful planning to avoid serious problems. We have had deliveries early and late in the season wherein we had to make pre-arrangements with marinas to bring in fuel trucks to fill our boats. This is because we are so early in the Spring, the marinas have not yet filled their gas dock fuel tanks. In the case of the late Fall deliveries, marinas have shut down their fuel docks so bringing in a fuel truck is needed. We also carry up to 50 gallons of spare fuel to extend our range and help make sure we don't run out of fuel.
Early/late season weather considerations are huge as well. It is not uncommon to encounter gale force winds with huge seas (3 to 5 meters) in the early or late season – particularly in the Fall as the November gales start rolling into the Great Lakes.
SAFETY:
A critical aspect of delivery preparedness is SAFETY. As a yacht delivery Captain, we rely heavily on weather forecasts from a variety of sources to help ascertain what to expect in terms of wind and sea conditions. Besides making sure the vessel has all the required safety equipment, we also carry a certified life raft and an EPIRB (emergency beacon) when delivering offshore through the Great Lakes and/or on the ocean. The life raft and EPRIB are like an insurance policy – we hope we never need to use them – but if we ever did, we would be darn happy they are there for deployment.
The two main issues, outside of the crew's control, that can cause a boat delivery delay are weather considerations and mechanical breakdown. It is important to make sure the critical spare parts and an adequate compliment of tools are on board before departure. There are no marine supply stores or marinas in the middle of the Great Lakes or the Ocean!
DELIVERY EXPERIENCES:
I have previously emphasized that diligent pre-delivery planning and preparations are critical in order to minimize the effect of the many variables that can cause unforeseen and difficult circumstances. Despite these diligent efforts, 'stuff' can still happen!
For example, when delivering a motor yacht from New Jersey, USA to Lake Huron, after traversing the length of Lake Erie towards the Detroit River, the winds picked up at sunset and by the time we got to Point Peele the seas were 2 meters with 25+ knot winds. As we rounded Point Peele after 10:30 PM to head into the Leamington marina, we encountered a search and rescue underway with Coast Guard and volunteer vessels running search patterns for a victim who fell off his small sailboat. So, we had to meander in amongst all the search vessels as we headed for the marina entrance. The digital fuel gauges failed right after we departed NJ, so we knew we were running low in fuel, but not how low, as we docked in the marina near midnight. It turns out we only had 5 gallons of fuel left in the starboard fuel tank! We classify this as a fortunate 'just making it experience'!
Another time, we set out to cross Lake Ontario from Oswego, NY to Trenton, ON departing at 9:00 PM with a favorable overnight weather forecast. We were delivering a sailboat which had its rig dismantled and lashed horizontally on the deck. As weather goes, despite the favorable forecast, the winds started to pick up just after 2:00 AM out of the West which ended up producing 2 to 3 meter swells. It meant for a 'white knuckle' crossing to say the least. Sailboats are very unstable when their rig is lying horizontally and lashed to the boat. We always want to avoid any waves more than 1-2 feet in such a situation. Needless to say, it was a very long night and we were incredibly relieved once we rounded Presqu'ile Point lighthouse with everything intact….except our nerves!
Years ago, on a Lake Superior to Southern Georgian Bay (Midland) sailboat delivery, we were on Lake Superior in the middle of the night heading for Sault Ste. Marie. We were about 10 miles off shore in 640 feet of water. Suddenly, the depth sounder started showing depths of 500 feet, then suddenly dropped to 158 feet, then dropped to 53 feet, then further dropped to 10 feet and eventually was reading only 5 feet water depth. We were sailing downwind at the time in 30 kts of wind (with the headsail only). We had to assume the depth sounder gauge was working properly, so we immediately turned the boat around, and headed up wind to stall the boat. We used two million candle power spot lights looking overboard to see what might have been in the water to cause such shallow water reading on the depth sounder. Our concern was is there a submerged shipping container in the water or some other obstruction? Given we were in 640 feet of water, the water color under the spot lights was as jet black as the night was. We were still concerned there was something in the water column that the depth sounder was picking up. Once we had determined there was nothing there, and doubled checked our position to confirm we were indeed in 640 feet of water, we turned the boat around and continued our passage towards Sault Ste. Marie. It turned out the depth sounder was faulty with a software glitch that caused the unit to give erroneous readings in deeper water. We had the unit replaced during the delivery once we made landfall.
CLOSING:
These are few examples of unforeseen circumstances that can happen in boat deliveries despite diligent preparations and solid advance planning. The old Boy/Girl Scout motto, "Be Prepared" is very appropriate for a yacht delivery Captain and crew! Delivery crew always have to be ready for unexpected events on account of the fact there are so many variables in play simultaneously. What we do know for sure is the more prepared we are in advance, the more it dramatically lessens the effects that unforeseen events can have on the boat delivery operation. It also increases the safety of the crew and the vessel, which is always our paramount consideration above all else.